http://iwishiwasbig.livejournal.com/ (

iwishiwasbig.livejournal.com) wrote in

fhightimes
2012-02-06
12:41 am

INVESTIGATION: FANDOM
NO, REALLY. WHAT WAS THE SCHOOL BOARD THINKING?
by Annie Edison
Even if you're a new student as of this semester, you've probably heard of a class called What Was the School Board Thinking Giving Jamie Madrox a teaching position? It's a class that doesn't seem to have any particular goal, having taken it last semester, and during that semester I had to lick doorknobs, use my teacher as an Angry Bird and had a hand puppet of me made.
Which begs the question... what was the school board thinking giving Jamie Madrox a teaching position?
Professor Madrox has a long history of troublemaking going all the way back to his days as a student here at Fandom High, which included a war with one of the girls' cabins. At least in those days he could be given detention. When she learned that he would be returning as a teacher, Principal Zoe Winchester had a very telling reaction. "I called the board to verify that I wasn't hallucinating and then spending the evening at Caritas," she said, laughing. The school board gave no reason for hiring him, which leads to speculation. When asked if she thinks this was one of the school board's bad ideas, Principal Winchester said, "98% of the time, yes. When he spoke to all of you last semester about not throwing yourselves into the path of danger, I have to admit, I was surprised and pleased."
Dean Anakin Skywalker, a onetime classmate of Professor Madrox's said of the school board, "I think they delight in throwing curveballs at us." He was the victim of an incident last semester in which the class was forced to dress in robes and braids and sing while playing bells. "I decided to take it as a compliment," he said, while making it perfectly clear that a repeat of this would not be okay.
Professor Madrox seems to have a lot of connections from his student days. The co-teacher of his class this semester, Professor Jeff Murdock, says, "It's nice to be back here teaching with a friend, you know? I mean, it's been a long time since I've seen Jamie - Jamies - any Jamie, really, but now we're here and teaching and everything. It can be quite daunting, but I think we keep each other balanced!" While a lot of people might think this is just trying to rationalize a class that is in no way sane, he adds a different perspective to things. "Look, there's a lot of challenges in life that people don't realise exist until they run into them," he says. "Like spontaneous nudity or subtext or other terrible things, you know? So we're sort of hoping to prepare them for the worst things that are out there. Things they don't tell you about in high school most of the time!"
"This place is strange, and I suppose you should be prepared for anything," Principal Winchester said in response. Professor Madrox himself reportedly called it an educational adventure. One could make the argument that in an environment like Fandom, there might be some merit to that- you certainly can't be bored in the class.
For any students who might feel traumatized by such a curriculum, people do have you in mind. "We look after them, of course," says Professor Murdock. "Like, this week, we gave everyone the chance to take a bathroom break if they had trouble with the assignment. It can get really taxing, I'm aware of that." Dean Skywalker also would like the students to know that his door is always open should anyone want to talk about any of their classes, including Professor Madrox's.
"Professors Madrox and Murdock are being watched. Always," concludes Principal Winchester, and while this is not an editorial piece, this reporter would like to say that makes her feel much better.


FROM THE EDITOR'S DESK
With Valentine's week coming up and, more specifically, a dance directly ahead of us, I wanted to take the time to say a few words to any students out there who haven't been lucky enough to cross paths with someone to spend the holiday with. I've been in that position every year up until this one, so I can relate.
First off, try not to worry about it too much. Don't even let a lack of date stop you from going to the dance. You never know when you might drink spiked punch and end up making a move on the right person.
Second, don't drink the spiked punch and maybe try to do that soberly if you're feeling up to it. It takes a lot of confidence to even try something like that, and I understand that people find confidence to be attractive. So that's a good start right there!
Third, remember, I'm a tap-dancing ventriloquist and I found somebody. Let that be a beacon of hope for the rest of you.
And finally, maybe you're happy to be unattached this Valentine's Day. There's nothing wrong with that. It is, after all, a greeting card holiday and a time when your friends in relationships feel an obligation to get things just right. If you're unattached, that's a whole level of stress you get to ignore.
So whatever you're shooting for this upcoming week, remember, trying doesn't hurt and neither does enjoying some time to yourself.
TEACHER PROFILES:
JAYE TYLER
by Darcy Lewis
If you've ever wondered what Fandom alumni do, there is at least one answer. Class of '07, Jaye Tyler has returned after getting a degree in philosophy at UCLA and Brown. She is now teaching philosophy and movie watching back at Fandom.
She did have plenty to say about Fandom's quirks. Apparently, there's a locker that sucks in students and generally returns them. [Ed. note: This is Locker 327. The Fandom High Times recommends avoiding this locker whenever reasonable.] During her time at Fandom, students turning into animals was a common occurrence. And having children show up out of the blue and claim that their parents are around is regular as well. There really should be a brochure for these kinds of things.
Ms. Tyler's advice for herself at our age? Always keep a lawyer on retainer. Truer words never spoken.
FANDOM STRANGENESS UPDATE
by FHT Staff
• Last Thursday, Fandom was invaded by creepy dolls that seemed to always be watching you. And sometimes attacking you. Or occasionally had their personal bubble violated in the name of ventriloquism. The dolls that remained no longer posed an imminent threat as of Friday, but they remained creepy.
THE FINAL WORD
by Dave Nelson
As you've already realized if you've read our lead article, part of our goal here at the Fandom High Times is giving you answers to questions you've asked yourself, possibly every week depending on your class schedule. But we won't leave it at that. We will also answer the questions you were about to ask, don't realize you're thinking about, or simply don't care about but don't mind reading.
Here at your Times, we strive to be informative, interesting, and entertaining, hopefully in that order.
Coffee Pin-Up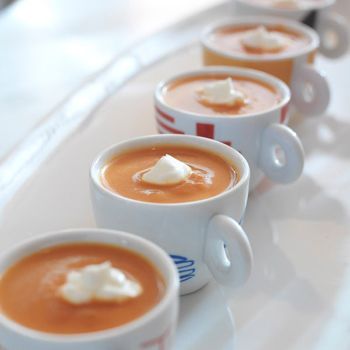 credits:
editor: Dave Nelson
words: Annie Edison, Darcy Lewis, Dave Nelson
pictures: So many people from Fandom High Times past
adviser: Jaye Tyler
Questions? Concerns? Got a hot tip? Send a letter to the editor:
letters.fhightimes@fandomhigh.edu
!
Want to promote your business and support the newspaper? Contact our
ad department
!